Suzuki B King
Supercharger Kits
Each Suzuki B King supercharger system includes all necessary components to ensure safe, reliable operation.
The Motorcycle supercharger kits are designed and offered by TTS Performance Parts in UK.
For more information, please visit TTS Performance Parts Website.
Model
HP ​
Suzuki B King (stage 1 kit)
175 > 250
Suzuki B King (stage 2 kit)
175 > 300
Suzuki B King (race kit)
175 > 550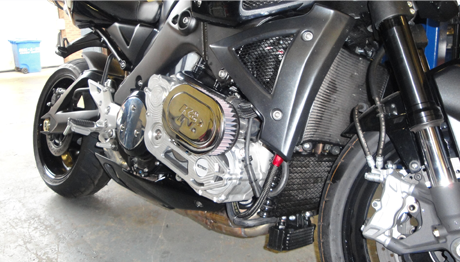 The conversion is the lightest, smallest, most compact, most robust package. This enables the standard radiator and oil cooler to be used.
The supercharger is mounted further inboard than any other, offering excellent ground clearance yet not compromise front wheel clearance. The air filter and air intake pipe are above the supercharger allowing the filter to pick up cleaner air away from the road. (with an option of a complete covered filter for all weather use). Offering up to 1.4 bar boost pressure we can offer the highest performance for the Street B-King.
The Rotrex supercharger offers the best mid-range gains and top end performance of any supercharger. Additionally the unit is totally silent, no grating rattles on idle to spoil the effect. Overall peak boost is adjustable at the turn of a screw, without changing midrange torque. So the power can be set to suit the fuel and conditions available. There is absolutely no 'turbo' lag. Just instant throttle response with an infinitely wide power band that pulls from idle to redline offering the best riding experience available.
The Suzuki B King Kits are offered by TTS Performance parts in UK.
Please contact them directly by interest. 

Price
Stage 1 kit – Price from: 4000.00 euro excl. VAT
Stage 2 kit – Contact us for price
Race kit – Contact us for price