Yamaha R1 Supercharger Kits
TTS Performance are pleased to announce the development of the Rotrex supercharger conversion for the 2007/8 Yamaha R1.
The Motorcycle supercharger kits are designed and offered by TTS Performance Parts in UK.
For more information, please visit TTS Performance Parts Website.
| | |
| --- | --- |
| ​HP | Charger |
| 160 > 200 | C15-60 |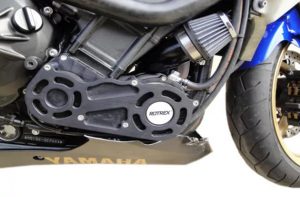 This fantastic conversion takes the performance of this motorcycle to a whole new level. Where normal NA tuning only makes this motorcycle more peaky, the supercharger not only lifts the torque level by as much as 30% it also broadens the powerband from idle to redline.
Peak power is up from 160 to a storming 200 horsepower at the wheel. This conversion is simplicity itself to fit. Even the standard exhaust system can be retained untouched (POWER REDU This power was achieved by reducing the compression to 9:1 using a thicker head gasket. If race fuel was to be used the compression could be left standard and power would be lifted to approximately 250 bhp. Drivability is better than standard and there is absolutely no throttle lag. The standard fuel pump and injectors are used further more simplifying the installation and keeping down the costs.
TTS use the Powercommander V fuel controller to calibrate the fueling of this bike.
The Yamaha R1 Kits are offered by TTS Performance parts in UK.
Please contact them directly by interest. 

Price
Price from: 3500.00 Euro excl. VAT