Ford Mustang Supercharger Kits
Each Ford Mustang GT supercharger system includes all necessary components to ensure safe, reliable operation. Our distributors have developed kits for the following models:
Model
HP ​
Ford Mustang GT (Stage I)
408 > 572
Ford Mustang GT (Stage II)
408 > 620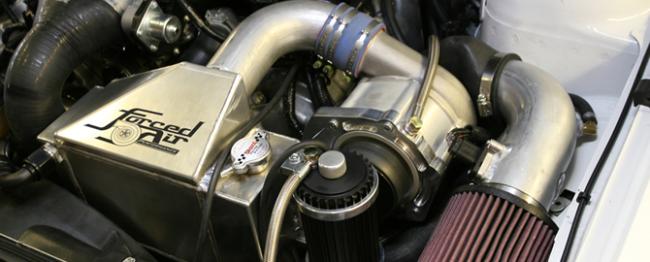 This Mustang GT supercharger system provides instant throttle response and a progressive power curve that increases all the way to redline without the typical spiking or surging turbochargers are known for. This unique, more useable power curve results in reduced cylinder pressures, less strain on engine components, and increased reliability. Rotrex superchargers also operate much cooler when compared to turbochargers and other supercharger systems, which reduces the engine's intake air temperature as well as its risk of detonation.
Each Mustang GT (Coyote) supercharger system is a comprehensive design and includes all necessary components to ensure safe, reliable operation. Standard-issue with each kit is a large, front-mount intercooler to help ensure low intake air temperatures for optimal performance. All necessary aluminum tubing, silicone couplers, and clamps are also included for easy installation. Proper air/fuel ratios are ensured with the included Grams Performance 52lb/hr. fuel injectors, and an optional engine management system. Convenient, plug-and-play fuel injector adapters are also included, making each kit a true bolt-on experience.
Rotrex superchargers are renowned for their compact size, high adiabatic efficiency, low vibration, and quiet operation. Their unique traction drive technology is what makes all of this possible, which, unlike other superchargers, transmits power through frictional forces between its rolling elements. Each Rotrex unit features its own self-contained oiling system that remains independent of the engine. Its dual-action oil pump supplies traction fluid to the supercharger while the supplied cooler ensures proper fluid temperatures at all times.