Lotus Elise/Exige (Toyota) Supercharger Kits
Each Lotus Elise/Exige (Toyota) supercharger system includes all necessary components to ensure safe, reliable operation. Our distributors have developed kits for the following models:
Model
HP ​
Lotus Elise/Exige 220S (Toyota 1ZZ)
136 > 220
Lotus Elise/Exige 250S (Toyota 2ZZ)
190 > 260
Lotus Elise/Exige R (Toyota 2ZZ)
190 > 295
NB! The Lotus Elise supercharger kits for Toyota 1ZZ and 2ZZ engines can't be used directly for Toyota MR2/MR-S Spyder, Celica, Matrix and Corolla.
Please contact your local distributor or kit builder, in case you want to make a kit for these Toyota models.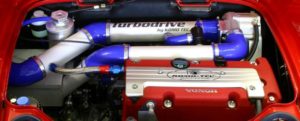 Supplement to the Elise/Exige with our "Turbodrive" system!
Based on our Elise 250S Turbodrive system, we have developed the Elise S200-system for the Elise S140 with 1ZR engine.
The torque and power increase significantly, with the main advantage being a torque increase of approx. 55 Nm, which improves drivability.
The Rotrex charger used for this is a mechanically driven flow-charger (radial compressor) with a separate oil system including pump and reservoir. In our kit, this charger runs at around 98,000 rpm at full load (max. 120,000 rpm). The boost pressure is 0.46 bar. To optimize the performance, we also use an air-to-air charge-cooling-system that gets a temperature difference of around 50 ° C (before / after the intercooler) and thus normally keeps the difference to the ambient temperature constantly below 20 ° C. The pressure loss in the cooler is less than 15 mbar!
The highest power-output is approx. 195 hp at 6,700 rpm and the maximum torque of appox. 215 Nm is reached at around 5,600 rpm. The full-programmable ECU allows the maximum speed to be increased to 7,300 rpm on personal request.
Main advantages:
Additional plus in power and torque
more torque (+55 Nm) and power (+60 PS) compared to the factory spec Elise 140
Individual optimization of the ECU and the "sport" function thanks to the use of the freely programmable control unit
Motorsport part – not street legal! Not permitted in the area of ​​the StVO / StVZO!
The use of a sport rear silencer is mandatory! Please note that not all rear silencers available on the market fit with our system! Please do not hesitate to contact us if you have any questions in this regard.
The Lotus Elise/Exige (Toyota) kits are offered by this kit builder:
Please contact them directly by interest. (Click logo to visit)

Power Upgrade S200 Turbodrive consisting of:
S200 sports airbox
Rotrex C30 Charger
Charger-Bracket and pulley
Charge-cooler (air-to-air)
Boost pressure piping stainless steel
Samco pressure hoses
Pop-off-Valve
EMU Black freely programmable ECU
individual programmed EMU-ECU to S200 (ignition and injection maps, throttle valve characteristic and camshaft phase adjustment)
The price also includes fitting and a dyno run with a performance report. ATTENTION: The kit requires the use of at least (or high quality) Super Plus (RON98) fuel.